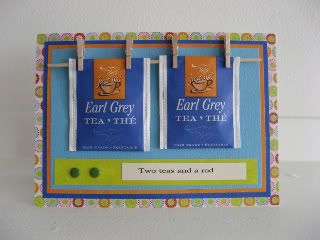 In case it's not clear, the outside of the card says: "Two teas and a rod".
Inside, the card says: "To my dear friend, who is almost as punny as me. Happy Birthday!"
The tea bags are attached to a thin wooden rod using little tiny clothespins. The clothespins are in turn adhered to the card using Zots.
This was a bit tricky for me. It might have been easier if the packaging on the tea bags wasn't so UGLY!
Great fun though